Recently one of the contributors noticed that I had expanded the information in his caption and keywords with some things that he had been unable to find. Some things are not necessarily available to you when you take your pictures, perhaps notice boards are inadequate or not present, or it's just not a place that would be expected to have notice boards. Whatever, it is important that your pictures are fully and accurately captioned and keyworded because if they are not then they just won't come up in searches!
My primary source for any kind of built environment, towns, villages, stately homes and so on is Pevsner's Buildings of England (though Scottish and Welsh editions are now available as well). This is a multi volume (one for each county, two for some!) which basically lists every village, town and city in the country and highlights every building of any importance. In many places this is little more than a description of the church and a brief summary of the place, but in most cases there will be mention of several specific buildings and in towns he takes you on tours to the most interesting places. It is often possible to identify a building in a picture from the description in Pevsner and thus update your captions. If you specialize in one county or a region then I would consider a copy of the local Pevsner to be absolutely essential.
There is no single web site that has everything I'd want to know. Organisations like English Heritage and the National Trust are useful for the buildings they oversee and every diocese seems to have a site with links to it's churches. Privately owned stately homes will have a site if they are open to the public, but if they operate as hotels or conference centres then they probably won't have historical information. Village web sites tend to be pretty useless, but may have links to useful information and things like windmills and lighthouses will always come up on some enthusiast site, but do make sure you check any information; an error on one site can easily propagate through many more!
Landscapes can be trickier, there is no book that systematically describes all the views in the country, but with some minimal information you can often find a place using an OS map, again we have a fairly complete set, but these can be found on the web these days and since photographers rarely stray far from their cars, Google Street View has proved invaluable since it's introduction.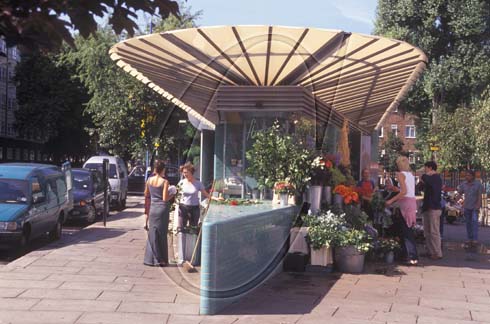 Award wining kiosk and public convenience by Piers Gough in Westbourne Grove, Notting Hill ©Geoff Howard
If you are intending to go out to photograph some town, village or landscape you really have to do your homework before you go! While we will always want the church or the pub, often the most important or historically interesting structures in a town may not look like the most interesting and equally an ostentatious, old looking building may be relatively new and of little interest. That old looking tithe barn could be by Victorian Gothic revivalist Pugin, that bizarre lamp-post may be by Charles Barry, that odd public convenience may have won architectural prizes and what about the notable residents? Did a famous writer live there, or a composer, scientist, politician? You have to find things like this out in advance, there may be an ordinary little cottage at the end of the street by Lutyens!
You should also assume nothing about a building. We have had pictures of the "half timbered" buildings in Chester keyworded medieval for instance. They are all Edwardian. I have not had a picture of Tower Bridge labelled medieval yet, but I have heard that a fair proportion of people do think it is over 400 years old!
Over the past few years I have acquired a fair amount of knowledge about architectural styles and can usually spot when something has been mislabelled, sometimes more recent extensions have been carried out very sympathetically to the original, Kings Lynn Guildhall for instance has Medieval and Victorian parts, but I can't remember which, so it is easy to get tripped up. You must always make sure that you check all your facts, if there are errors you may get us into trouble or your pictures may not come up in searches when they really should.
And check your damned spelling!